True Essence of Southern Living
Fellowship Home at Brookside offers South Georgia living at its finest. Open fields, pecan groves, sprawling oaks, and flowering gardens will surround you. Wake up and breathe clean, country air. Sit on the porch and delight in the lush, beautiful gardens and the birds chirping, or stroll along our many walking paths and bask in God's creation.
You'll have it all in a convenient location! Pass through the tree canopy, and the heart of Valdosta shopping, dining, and healthcare is just 5 miles away.
Gardens – The English-style gardens are a continual source of enjoyment for our residents. The scent of roses, jasmine, honeysuckle, and rosemary fills the air. Springtime brings every color of the rainbow as tulips, irises, Queen Anne's lace, and flowering pomegranates bloom. The gardens are the perfect place to indulge in a private time of reflection or visit with family and friends.
Dining – Three delicious and nutritious meals are prepared each day and are served in a family-style setting. Fellowship Home provides a dining experience that residents will look forward to. Specialized diets are available.
Beauty and Barber Shop – The in-house beauty and barber shop is open four days a week, and residents may receive services as often as they wish.*
Library – The library features titles from every genre. Comfortable seating, a cozy atmosphere, and large-print books make the library the perfect spot to relax and read.
Examples of activities include:
Dining club
Field trips to cultural events
Shopping trips
Ranger rides around Brookside Farm and along the scenic Little River
Fishing off the dock at Allison Pond
Raised gardening beds
Walking paths
*Additional charges may apply
Wi-Fi – Complementary Wi-Fi is available throughout the community.
Theater Room – Enjoy big-screen sights and sounds in our state-of-the-art theater room. Whether it's a movie night, a virtual bowling tournament, or watching the big game—the theater room brings any event to life.
Housekeeping – Daily services include washcloth and towel replacement and general housekeeping. Scheduled services include laundry, fresh bed linens, and deep cleaning.
Transportation – Courtesy transportation is scheduled weekly for shopping trips, eating out, banking, and other outside activities. Custom transportation services are available, as well.*
Worship Center – Weekly church services in our chapel are a source of enrichment to our residents.
Fitness & Wellness Program – Our activities coordinators create exercise and wellness programs designed to strengthen both body and mind.
Exercise classes
Bingo
Singing groups
Devotionals
Movie nights
Parties
Willow Wood Assisted Living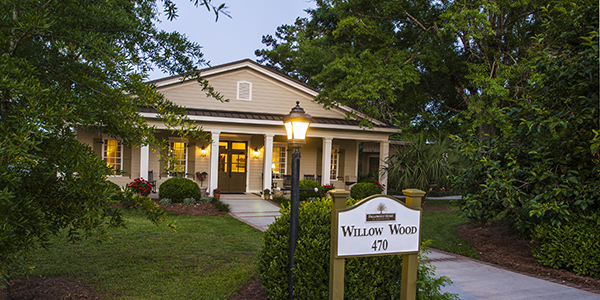 The Willow Wood community is designed for those seeking an autonomous and secure way of life. Willow Wood offers basic personal care services in an amenity-rich environment. Each residence is private, and there are a variety of floor plans to choose from. All residences include a private bathroom, kitchenette, independent thermostat, and spacious closet. Willow Wood features several unique amenities, so be sure to ask for more details.
Each residence features:
Wall-to-wall carpet
Living area
Ample closet space
Mini kitchenette cabinets with bar sink
24-hour emergency call system
Cable, phone, and data jacks
Fire suppression system
Each bathroom features:
Porcelain tile flooring
Built-in heater
Curbless shower
Shower seat and safety bar
Emergency call system
Toilet
Vanity
Built-in security cabinet
Laurel Oaks Enhanced Assisted Living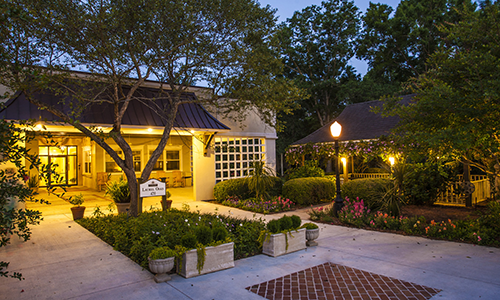 The Laurel Oaks community is ideal for residents who require enhanced care. The focus of Laurel Oaks is to provide supportive features that maximize safety, comfort, and provision of care while promoting health and well-being. Private and semi-private residences are available.
Each residence features:
Built-in closet and drawer space
Living area
Ample closet space
Cable and phone jacks
Fire suppression system
24-hour emergency call system
Private toilet with safety bars
Vanity with sink
Senior friendly shower accommodations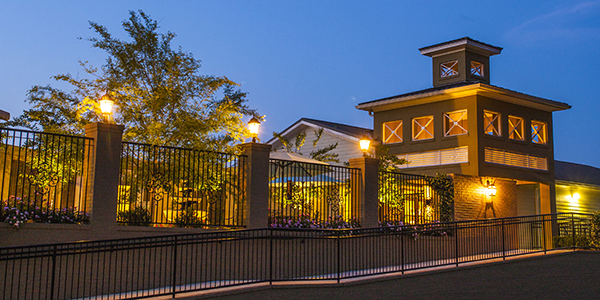 The Elms Memory Care community is designed to meet the special needs of seniors in all stages of Alzheimer's disease or dementia. Secured entry and exits, ample indoor and outdoor space for walking and exercise, daily activities, and a trained memory care staff are some of the features available in this community. Private and semi-private residences are available.
Each residence features:
Built-in closet and drawer space
Living area
Ample closet space
Cable and phone jacks
Fire suppression system
Toilet with safety bars
Vanity with sink
Direct Care Team– Fellowship Home employs registered nurses (RNs), licensed practical nurses (LPNs), certified medication aides (CMAs), certified nursing assistants (CNAs), and personal care aides (PCAs). All team members are specially trained to provide residents with expert care. Direct care staff is available 24-hours a day to assist with activities of daily living including bathing, dressing, grooming, toileting, mobility, eating, and transportation.
ALC License– Fellowship Home holds an assisted living community (ALC) license that allows the care and services provided to each resident to be expanded as the resident's needs increase. This license affords many senior adults the opportunity to age in place at Fellowship Home and decreases the likelihood of relocation to a skilled nursing facility.
Medication Management– RNs, LPNs, and CMAs are available to supervise, assist, and/or administer medications to residents. This service provides residents and their family members with assurance that medication dosages will be accurately administered.
Nurse Call System– Apartments in Willow Wood and Laurel Oaks are equipped with an electronic call system that allows residents to receive prompt assistance at the push of a button.
Memory Care Accommodations—Fellowship Home offers a dedicated living area designed to maximize safety and independence of residents requiring memory care services.
Physical Therapy/Home Health Services—Fellowship Home coordinates with physical therapists and nurses from home health agencies to provide specialized services to residents who require skilled care.
Scheduling and Transportation—Medical appointments can be scheduled by members of the Fellowship Home care team, and physicians' orders can be provided to nursing staff by doctors' offices.
Read our Frequently Asked Questions page to learn about family and friend visits, available services, living arrangements, and more.